Many Diseases Are Preventable
Timely access to pathology screening is crucial for effective health outcomes. SmartHealth provides Complementary Health Practitioners with the analytic tools needed to help their patients take a proactive approach to their health care.
Naturopaths, Homeopaths, Chiropractors and Dietitians can now order accredited pathology screening and receive the clinical evidence and baseline measures needed to treat or refer their patients effectively.
It's wellness analytics for the body!
Subscribe
Step 1
Order private pathology screening for patients online
Step 2
Patients provide pathology samples at a local collection centre
Step 3
Receive and review patient's results, usually within 2 business days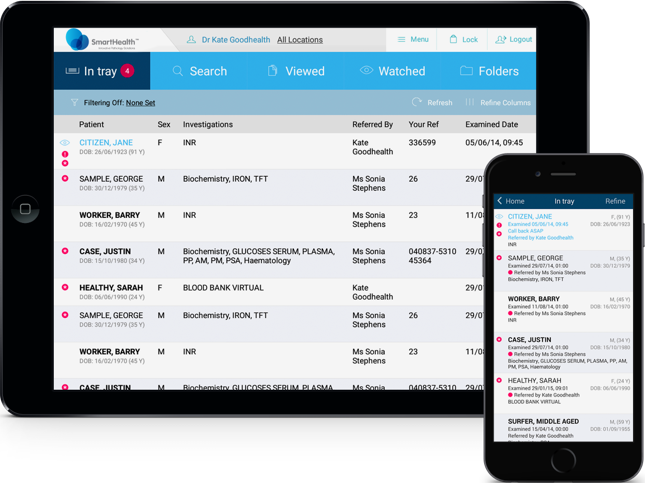 Pathology Made Easy
SmartHealth enables Complementary Health Practitioners to order pathology screening crucial to effective health outcomes.
Sample Collection
SmartHealth Prepaid Pathology Requests are honoured at over 1,500 Sonic Healthcare Collection Centres throughout Australia.
Fast & Accurate Results
Clean design and intuitive navigation allows easy retrieval and interpretation of SmartHealth results, usually within 2 business days!
Medical Review & Support
Our Complementary Health Practitioners benefit from access to online pathology support and all pathology results are reviewed by SmartHealth.
No setup fee or ongoing contract, cancel or change your plan at any time.
Order accredited pathology screening online
Cancel at anytime
No setup fees or ongoing contract
No software installation required
Order tests individually or by clinical categories
Instantly receive pathology requests and invoices
Print, save, or send pathology requests to patients
Fast, intuitive access to results on your PC, Tablet, or Smartphone
Easily search customer episodes
Securely share pathology results with patients and colleagues
Online educational resources
All results reviewed by SmartHealth
Results notification by SMS
Results within 2 business days
Some results may take longer depending on geographic location and complexity
Need more information?
Give us a call on 1800 900 430